Making six figures as a private practice therapist takes time, effort, and dedication. It also takes an intentional plan that can feel daunting to new private practice therapists if they're trying to do everything all at once.
But here's the thing: it's absolutely doable, even for newer private practice therapists—and especially for those who have been in private practice for a while. There are a few key things to keep in mind when building a six figure private practice, including:
your niche
your budget and self-pay fee
your marketing and practice website
your professional community
your support and accountability systems
the quality of the services you provide
and your mindset
Read on to learn more about ways to build a six figure private practice:
Get Crystal Clear on Your Niche or Area of Specialization
Define your niche or speciality area, and develop a clear professional identity that includes this speciality or area of focus. Sometimes it helps to think of specific diagnoses, presenting concerns, or circumstances—like pregnancy or divorce—that you love working with or where you've got specialized training. It might also be helpful to think about the types of clients you love working with.
Here are some questions to ask when considering a therapy niche:
Who lights me up the most when I see them on my schedule? What types of clients or cases do I most look forward to seeing? Pick 2-3 clients who you feel most excited, challenged (in a good way), or clinically stimulated by. Take note of anything these clients/cases have in common that you enjoy.
What types of cases or clinical concerns are least intriguing to me, that don't peak interest, or that I wish I didn't have to work on? (this is how you determine the best clients to refer to a trusted colleague)
What are the clinical topics/concerns I just can't get enough of? What things am I most likely to read a book on or listen to a podcast about on my lunch break?
While a niche isn't always necessary (there are many successful generalists in private practice!) it may make it easier to bring in clients who are willing or able to pay your full fee because they're seeking the specific services you provide. This, in turn, can help you make more progress toward meeting that six-figure income goal in your private practice.
Make Six Figures As a Therapist By Setting a Self-Pay Fee Based on Facts, Not Feelings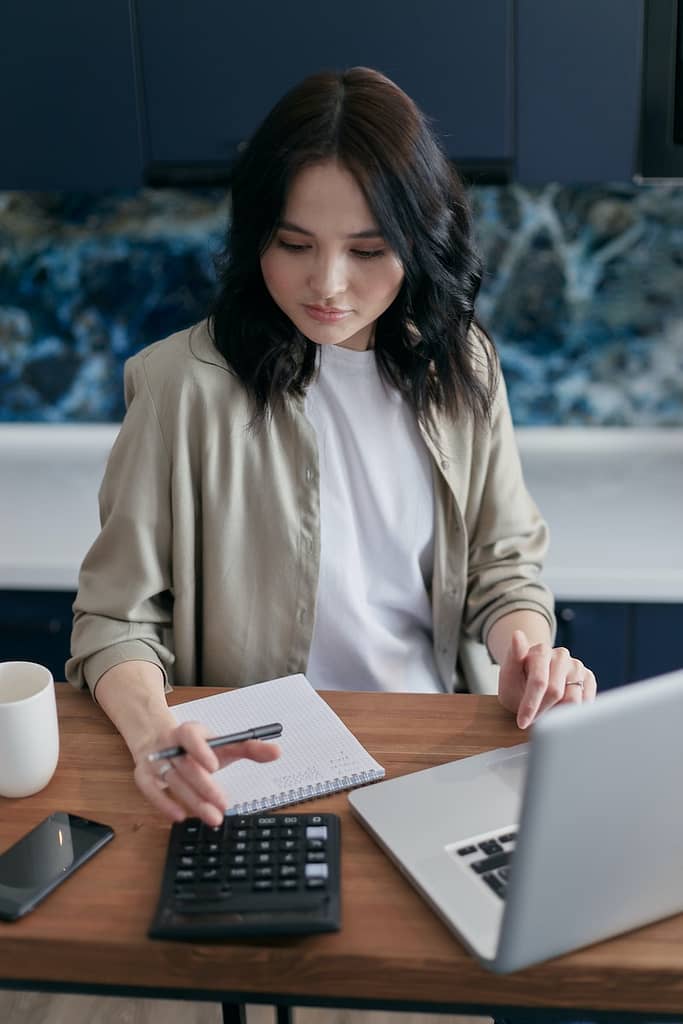 One of the biggest mistakes I see my business coaching clients make is setting a self-pay therapy fee that is based on what other therapists are doing, or based on a fear that charging a certain amount will earn them the title of selfish, inaccessible, or worse, unethical.
I'm here to provide some reassurance that charging appropriately for your services—that is, basing your fee off of facts (like operating costs, your required salary, budgeting for savings and taxes, etc)—is a much more reliable way of earning six figures as a therapist, rather than making a guess at what you might need to charge, or worse, basing your fee off of fear, a sense of guilt, or whatever it is your "imposter syndrome" tells you to charge.
Here are some questions to ask yourself—and I mean, really ask yourself, and be honest about—when setting your private practice fee:
✔️ Does it help you cover ALL of your business expenses? This includes operating costs (EHRs and liability insurance, for example), business savings, PTO savings, expected taxes, the cost of continuing education, office supplies and rent, etc.?
✔️Does it allow you to earn what you need to bring home in salary—that is, your owner's draw—so that all of your personal expenses (including necessities AND leisure/fun/savings) are taken care of?
✔️ Are you basing it off of actual math and intentional calculations Or are you basing it off of comparisons, feelings of fear of guilt, or a sense of obligation to other people?
✔️ Does it take into account your vacation time and your ideal caseload size—not how many people you think you "should" see, but the ideal number of sessions per week you want to hold (and the number of weeks per year you want to work)? Budgeting for time off allows you to take care of yourself and engage in other parts of your life without burning out, which is vital for a six figure practice.
✔️ Does it take into account the natural ebbs and flows of therapy, like cancellations, the summer slump, or the quiet period near the end of the year?
If you're not sure how to set your fee, or what to consider when doing so, check out this free resource I've created for therapists in private practice: Private Practice Income Calculator. It's a no-frills tool that will help you understand exactly what to charge based on your needs, rather than your feelings or what "other people" are doing.
Build a Search Engine Optimized (SEO) Therapist Website with Help from a Mental Health Copywriter
A therapist website with high-quality, Search Engine Optimized (SEO) content is a powerful tool for helping grow a private practice to six figures. This often under-utilized tool can help bring your practice out of relative obscurity and into the spotlight by making it easier to find you on the web.
Here are some ways SEO can help you make six figures as a therapist:
✔️ It can help improve your ranking on search engines like Google and Bing. Optimized websites, with expertly-written content from a mental health copywriter, can go a long way in improving your rankings for relevant search terms. By "ranking," I mean your website is more likely to show up at the top of the search results when someone is looking up for therapy services in your area.
✔️ You'll get more traffic to your website. Showing up closer to the top of search results makes it more likely that more eyes will land on your website—that is, you'll have more website traffic. This is Good News Bears for your six-figure practice goals, because more potential clients will visit your website and learn about your services.
✔️ Bringing in more traffic means more attention from ideal clients. SEO can help you attract what the marketing industry calls "targeted leads." In layman's terms, that means helping your ideal clients find you. When ideal clients find your website through a high-quality SEO strategy and expertly crafted content, you'll increase the likelihood of them becoming therapy clients who can benefit from your expertise, skills, and passion for the work.
✔️ Increase revenue. Attracting your ideal clients and welcoming them into your practice gives you the opportunity to keep a full caseload, build credibility, and generate more word-of-mouth referrals. All of this can help you increase your practice revenue and, ultimately, help you consistently earn six figures in private practice year over year.
To pull together an SEO strategy for your therapy website, consider working with a mental health copywriter who has specific experience working with therapists and who understands the nuances of mental health marketing. Working with a mental health copywriter and content expert can help ensure that your website strategy is tailored to your practice's unique SEO needs.
Find Your Professional Community—and Nurture it!
Building relationships with other professionals that you trust, such as doctors or psychiatrists that you might refer your clients to, or fellow social workers who can help clients access resources in the community, can help you get referrals from those same professionals with whom you've trusted your own clients.
✔️ Get creative about networking: if you hate the idea of dropping off a box of donuts and business cards at your local doctor's office, don't do it! Find ways to network with other professionals that feel genuine and authentic to your therapy style. As a business coach for therapists, I've had many coaching clients talk about their successes in creative networking, including co-creating a therapeutic book club with a local bookstore; starting a consultation group for folks providing similar therapy services; hosting a networking event with "therapist speed dating" games; and more.
✔️ Give as much as you receive within your professional community. Keep a list of folks who you know you want to refer your clients to. This can include doctors, chiropractors, social workers, spiritual leaders, trauma-informed gym owners, community builders, and more.
✔️ Nurture the relationships over time, and don't expect others to just send clients your way. Just like any other relationship, the best results come from a relationship built on mutual trust, rapport, and consideration for the other person. When networking and growing your professional community, make sure to nurture those relationships in positive ways that allow you to stay connected and make the relationship mutually beneficial;.
Get Business Coaching to Make Six Figures As a Therapist
Some folks love DIY-ing their way to a six figure therapy practice, which is amazing.
However, many folks find themselves absolutely overwhelmed with decision making and practice management—often to the point that they start making decisions out of fear or fatigue, and they end up veering off course, away from their six figure practice.
Hiring a therapist business coach is one of many ways to keep you on course. A good business coach will gently push your growth edges, give you extra accountability for your goals, and provide much-needed feedback on crucial decisions for your business.
A good counselor coach can also help you…
✔️ Get clear and focused on your goals: A business coach can help a therapist gain clarity and focus on their goals, values, and vision for their practice. They can also help therapists identify any obstacles that may be hindering their growth and development.
✔️ Sharpen your business skills: Let's be real: lots and lots of therapists have extensive clinical training, but lack the business skills needed to run a successful private practice. Then, when they try and find it hard, they blame themselves and decide it was never supposed to work anyway. Not true! A business coach is an awesome resource to help therapists develop the necessary skills, strategy, and mindset to run a successful, six-figure practice.
✔️ Make better, values-aligned decisions: A business coach can help therapists move through uncertainty in decision making by providing guidance, supportive reflections, and feedback on important business decisions, including pricing, hiring decisions, and marketing strategies.
✔️ Stay accountable to yourself and your goals: A good business coach for therapists can help private practice owners stay committed and accountable to their goals with regular check-ins and support—especially when things get hard. This can help therapists stay focused and motivated even when they come up against the natural struggles, frustrations, and difficulties of running your own business.
✔️ Grow professionally AND personally: Working with a business coach will push you to your growth edges and even a bit further, as you're challenged to step outside of your comfort bubble and do "the scary thing" you never thought you could do—kind of like how you felt when you started your private practice in the first place, right?
Bring In Word-of-Mouth Referrals by Providing High-Quality Services for Your Existing Clients
To build a thriving six figure private practice, it's vital that you focus on the bread and butter of your work: the therapy clients themselves. When clients feel well taken care of and supported by the work they're doing with you, they're more likely to refer friends, family members, colleagues, and other members of the community to your practice.
You can improve your chances of building a six figure practice with word-of-mouth referrals by doing some, or all, of the following things:
✔️ Staying connected to your professional network and giving as much as you're asking for from professional referral sources.
✔️ Investing in your own continuing education, training, and skill-building as a therapist, which might include pursuing certifications, learning new modalities, or joining a high quality consultation group.
✔️ Creating an ideal schedule that allows you to work when you're at your best, that also gives you plenty of time off to recuperate. This includes making sure your private practice fee is set at a level that supports your ideal schedule and caseload. (Not sure what your fee should be? Check out this free private practice income calculator).
✔️ Investing in a high-quality experience for your clients from start to finish, including everything from having a professional therapist website and marketing materials, crafting an office environment that is calming and welcoming, keeping your skills sharp, and staying connected to other professionals and resources in the community.
Cultivate Patience & a Willingness to Keep Going, Even (Especially) When It Gets Hard
Listen, starting a private practice is a huge career step for most therapists, and it can feel daunting at first, especially if your goal is to make six figures. But let me say this: as someone who grossed over $100k in her first year of private practice, I want you to know that it is totally doable! And it can even be a fun experience when all is said and done.
That's why it's so important to come into private practice with a mindset of patience, perseverance, and willingness to keep going, even when things are difficult. That includes weathering some financial storms and making difficult money decisions, like increasing your fee or getting more solid about your cancellation policies.
Just know that with a strategic plan, support, a willingness to try, and some patience through the process, a six figure private practice is well within your reach.
Megan Kelly, MA is a mental health therapist in the state of Indiana, and a business coach for therapists. She made six figures as a therapist in her first year of private practice, and helps other therapists learn how to do the same. Megan runs the popular Instagram account @antiworktherapist. You can find her at www.lykkecounseling.com or www.informercoaching.com.